Lead-Free Reflow Ovens
Lead Free Reflow Ovens
ETS Inc Lead-Free Reflow Series Ovens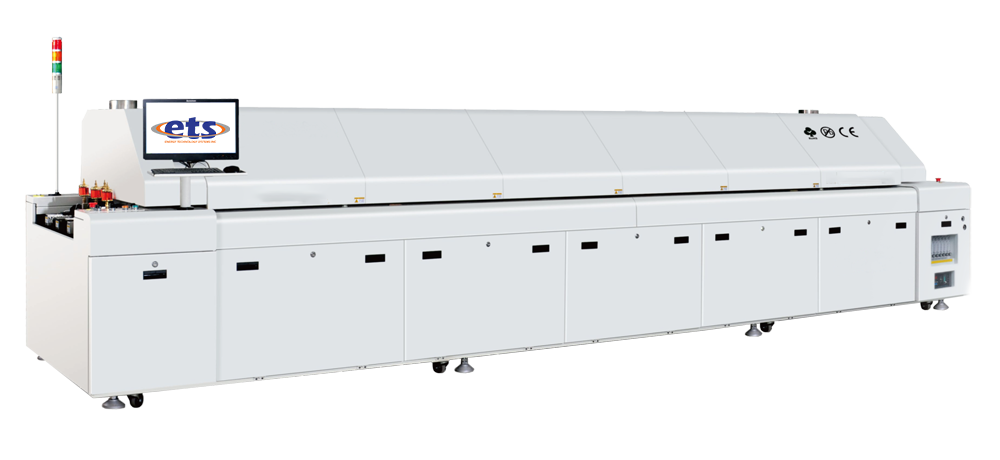 The ETSMax Lead-Free Reflow Series Ovens deliver high throughput with a choice of eight (8), ten (10), or twelve (12) heating zones and 460mm (optional: 610mm) adjustable wide conveyor for production runs. Our Lead-free Reflow Series ovens provide excelent uniform temperature profiling across the board for enhanced process control.
Standard Features
Intuitive GUI Interface
PC with Windows 7 OS
Data Logging
PCB Counter
PCB dropping alarm
Rails + Mesh Belts
Double pin chains conveyor
Automatic chain lubrication system
Motorized conveyor width adjustment
Flux Chiller (N2 ovens)
UPS system
SMEMA interface
Optional Features
Automatic power on/off (Auto timer)
Automatic conveyor width adjustment
Dual conveyors
Dual conveyor in different speed control
610mm conveyor width
Flux management system (Air ovens)
---
Reflow Series Specification
Solder Reflow and Adhesive Curing Oven
Cureflow ™
---
SMT Reflow Ovens for Solder Reflow and Adhesive Curing: Cureflow™ is a flexible family of products designed for Lead or Lead Free Solder Reflow, adhesive curing and other Surface Mount Technology (SMT) heating and thermal processing requirements.
Utilizing existing technologies from other ETS Factory Automation, Material Handling Conveyors and Thermal Ovens, Cureflow™ optimizes thermal energy transfer to electronic assemblies through its unique combination of Convection and Infra-red heat delivery systems. Infra-red "boosters" provide quick temperature acceleration to high thermal mass components or ground planes while Recirculating Hot Air (RHA) blowers maintain even temperature to all areas of the assembly. Low mass coil heating elements provide quick response for varying production loads ensuring process repeatability.
Recycled and Cascaded air is drawn from the low thermal mass process cavity with tangential blower wheels running the full width of the process cavity for even airflow. The air is heated and forced through nozzles onto the product. Columnized air retains its direction and velocity resulting in maximum impingement velocity on the product, high energy transfer and Near Equilibrium Heating™. Air is cascaded from one zone to the next reducing energy consumption. The 1.75 inch throat opening (above and below the Edge Grabber ™ conveyor pass-line) accepts tall electronic assemblies. Cross-platform (Windows, Machintosh, Linux) Software provides an easy to learn and easy to use interface to control the solder reflow oven. Access to the process cavity is available from either side of the assembly line via the patented hood lift while also allowing the same system to serve in either a Right to Left or Left to Right process direction. Cureflow™ Ovens are available with either a mesh belt or Edge Grabber™ conveyor. Large area filters offer long life and on-the-fly replacement.
Performance, Value and High Reliability combine to make Cureflow™ Solder Reflow Ovens a viable addition to any Surface Mount Assembly Line