PCB Inspection Smart Conveyor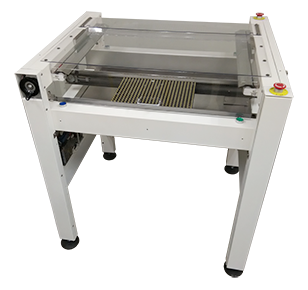 PCB Inspection Conveyor Description
Manual/Visual PCB Smart Inspection Conveyor for use between other assembly operations. ETS Circuit Assembly Inspection Conveyors are constructed using the same modular, steel frame design as our other PCB Handling Systems. PCB Inspection Conveyors can be fitted with UV or Task lighting, magnification, convenience power outlets, parts bins, etc to meet customer requirements. SMEMA Compliant, Ergonomic and can be used in pass-through mode as a linking conveyor. Printed Circuit Board Transport, Buffer, Inspection and Assembly Conveyor. The Circuit Assembly enters the Inspection Conveyor from the previous machine (such as the selective conformal coating, underfill or fluid dispensing machine) and is conveyed to the inspection/assembly area. If inspection or manual assembly work is not required (pass-through mode), the smart conveyor passes the PCB to the next machine, or buffers it until a SMEMA "Ready Signal" is received from the downline equipment.
What is a Smart Conveyor?
A conveyor where speed is exactly matched to upline and downline machines. The conveyor knows how and when to receive a product from the previous machine at the correct speed, knows how to handle the product while on the conveyor, knows how to transfer the product to the next machine at the right speed, and finally knows when the task is completed.
For example: coating workcell offloads at high speed, smart conveyor matches speed and accepts product then slows down to match conveyor speed of curing oven.
Standard Features
Robust Conveyor Modules in customer specified lengths, easily expanded in the future
Accepts up to 50cm (20″) wide product
Choose no legs, legs, ergonomic workstation, enclosed sides and/or enclosed ends
Drip Pans and Drip Grabber foil lining available for fluid dispensing applications
Width Adjust Lead Screws above or below the product
Standard clearance 100mm (4.0″) above and below the conveyor passline
Manual or Automatic Conveyor Width Adjust in segments or full length
Precise Programmable Conveyor Speed (PID Closed Loop Control)
Operate from PC or Embedded Touch Screen Controller
Can be used for PCB Inspection or Manual Assembly
SMEMA Compatible/Compliant
Supports Product by it's edges on extended pin chain
For Heavy Loads (>10lbs/ft²) choose EdgeGrabber™ Pallet Conveyor
Options
Task Lighting
UV (Blacklight) Inspection
Product Sensing and Tracking
Anti-Static Ground Plugs
Convenience Power Receptacle
Product Stops
Tools Holders/Part Bins
Storage Shelves, Enclosures
Exhausting, Filtration, Cooling
Mesh Belt
Designed to integrate seamlessly with TrioTek IR Curing Ovens and FlexCell Selective Conformal Coating Workcells
Customize Your Way!
Photo Gallery for PCB Inspection Smart Conveyor