Inline, Conveyor Curing Ovens
Triotek™

Thermal Cure,
Moisture Cure

,

Ultraviolet Cure

for Conformal Coatings, Potting Compounds and Adhesives

TrioTek™ 3 in 1 (Three curing methods in one oven) inline heat curing ovens from ETS are ideal for medium to high-volume curing, baking or drying of conductive inks, conformal coatings, adhesives, encapsulants and potting compounds. They are easy to integrate with automated spray and dispense systems, SMEMA compliant and equipped with a unique downdraft exhaust design. Removable drip pans and drip grabber foil lining reduce oven maintenance associated with messy drips and spills. The optional ETS xFlow exhaust flow controller and gas phase filtration ensure a safe and comfortable work environment.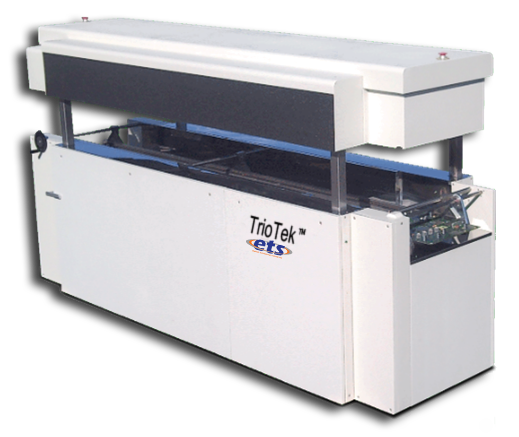 Standard Features
Point of Use Exhaust Filtration

Pre-Filtration
Deep Bed Gas Phase Filtration, removes VOCs and Odors
MERV 10 Filtration (~90% efficient, particle size 3 micron or larger)
HEPA Filtration (>99% efficient, particle size 0.3 micron or larger)
Custom Filtration Options

Exhaust Control and Analysis
Drip Grabber, foil lining through the heated length
Drip Pans, easily removed for cleaning
Patented Left to Right or Right to Left process direction in same oven

Pnuematic hood lift raises top straight up
Intrinsically safe
Controlled, slow rate of descent even in event of factory air loss
Equal access to process cavity from either side
Conveyor Technology

Edge Grabber (Pin Chain with 4.5mm pins, 2.5mm optional)
Product (Center) Support Conveyor
Mesh Belt (Options from Low Thermal Mass to High Loading)
Pallet Conveyor (Heavy Loads, >10lbs/ft²)
Combination (Mesh Belt plus Edge Grabber or Pallet conveyor)

Control Technology

PID Closed Loop Temperature AND Wattage Control
Stepper/Servo Motors
Touch Screens
Embedded Microprocessors
Intuitive Software
Intuitive Profiling (process setup)
Delta Spy Wired or Wireless Profiling
Diagnostics Reporting
Curing Options
Longwave Infrared Thermal Curing

Tuned Infrared (IR) and Convection Heat Cure
Infrared Curing prevents bubbles/blisters in solvent based coatings
Longwave Infrared cures coatings from the inside out
PID Closed Loop Control of Wattage and Temperature

Moisture Curing (Humidity & Atmospheric Curing)

Closed Loop Control of Relative Humidity
Silicones and UV Curables with secondary moisture cure mechanism
Ultraviolet (UV) Curing

LED UV
Electrodeless UV (Fusion, CoolWave, MicroUV, etc.)
Short Arc UV Lamps
Long Arc UV Lamps

All 3 Cure types in 1 conveyor oven, TrioTek™ (patent pending)

Order with one cure mechanism and field retrofit when need arises
Longwave Infrared Thermal Curing: The primary method of heat transfer is combination convection and long wave Infrared (IR). Convection heating is accomplished by first pressurizing a plenum above the oven's process cavity, second directing the air to the first two zones and then through air knives in the hot plates to the product. Long wave Infrared (IR) emitters cure coatings from the inside out, eliminating problems associated with surface skinning and off-gassing.
Moisture Curing (Humidity & Atmospheric Curing): Many coatings benefit or require humidity or moisture from the surrounding environment in order to cure. Often these coatings can take several hours to cure. In order to accelerate moisture curing, TrioTek™ offers closed loop control of relative humidity within the oven's process cavity. The TrioTek™ is a moisture increase humidity boosting curing oven. Humidity levels are monitored, and when required, moisture levels are increased in the supply air prior to entering the process cavity. On-Screen display give the operator instant access to current process cavity relative humidity levels.
Ultraviolet (UV) Curing: TrioTek™ cure ovens can be equipped with Long Arc, Short Arc, Electrodeless or LED based UV emitters for rapid curing. Long/Short Arc systems offer broad spectral output and high intensity. LED systems utilize focused long wave UVA emitters with a relatively narrow wavelength band for rapid curing. TrioTek's unique LED emission sources produce very little heat, require no warm-up, emit no harmful UVB, UVC or Ozone, and do not contain Mercury. TrioTek™ LED UV Emitters offer high flux radiant output and greater than 25,000 hours of operation with minimal degradation over time.
TrioTek™ Curing Oven Specifications
1450
2250/2650
4250
Length
71.5″
118.5″ (3009.9mm)
213″ (5410.2mm)
Width
39.4″ (1000.8mm)
Height
52.05″ (1322.1mm)
Heated Zones
3
5 or 6
7
Heated Length
55″ (1397mm)
88″ (2235mm) or 102″ (2590mm)
165″ (4191mm)
Cooling Length
9.5″ (241mm)
23.5 (597mm) or 9.5″ (241mm)
40.5″ (1029mm)
Conveyor Speed
5.1 – 51.2inches/min (13 – 130cm/min) standard
Conveyor Width
2 – 20″ (50.8 – 508mm)
Product Passline
38 – 39″ (965.2 – 990.6mm)
Product Clearance
+/-3.5″ (+/-88.9mm)
Air Flow Volume
125 CFM
200 CFM
350 CFM
Installation Drawing
1450
2250/2650
4250
Click here for the TrioTek specification sheet (PDF).
Photo Gallery for TrioTek Curing Ovens
TrioTek Curing Oven Model 4250 paired with SCS PrecisionCoat Selective Spray and Dispense Conformal Coating Workcell processes Conap 1155 Conformal Coating.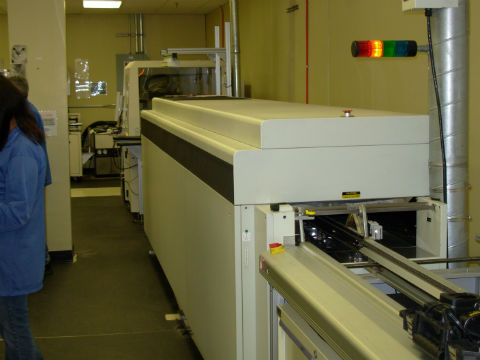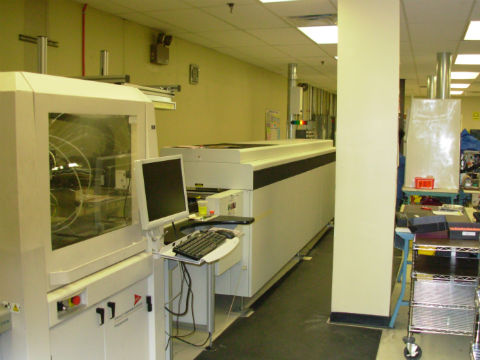 TrioTek Curing Oven Model 2250 paired with Nordson Asymtek Century Selective Spray and Dispense Conformal Coating Workcell in Right to Left Processing Configuration.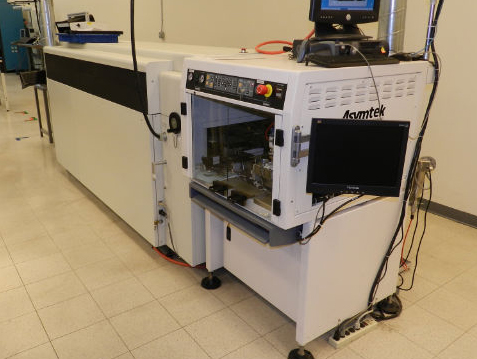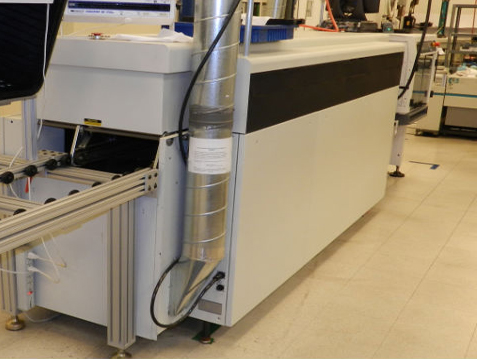 TrioTek Conformal Coating Line. EdgeGrabber rail conveyor system for TrioTek Conformal Coating Curing Oven.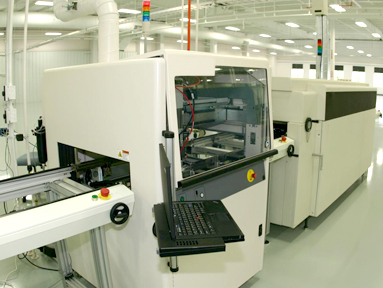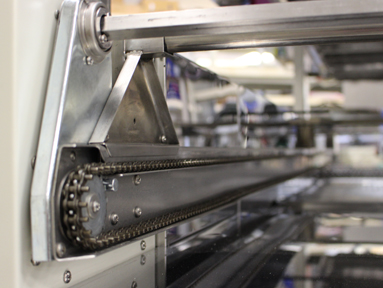 TrioTek DripGrabber makes maintenance and oven clean-up easy. EdgeGrabber Conveyor and Ultraviolet (UV) Curing featuring High Power LED Flood Cure Emitters.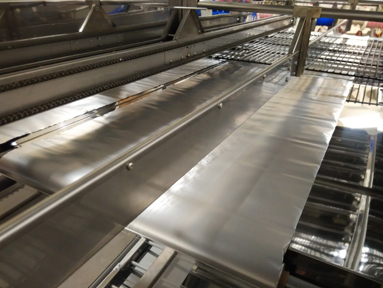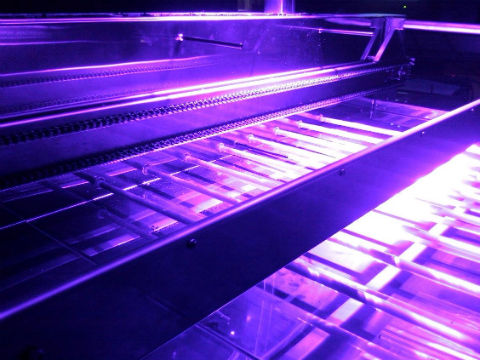 TrioTek Lead Screws are above the product. (Infrared) IR convection heating zones for curing confornal coatings at the product level from the inside-out without skinning or blistering the coating.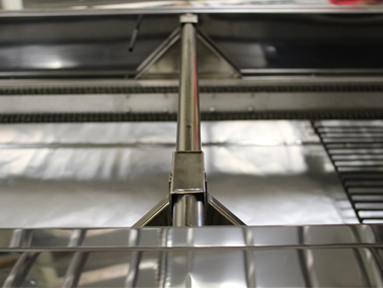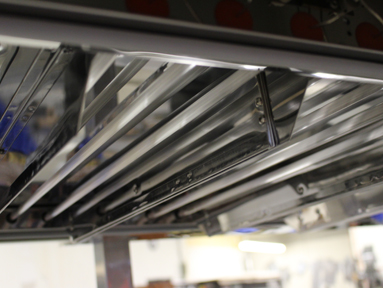 TrioTek Touch Screen Graphical User Interface is Intuitive and Easy to Use. Provides onscreen display of Temperature, Wattage, Conveyor Speed, Light Tower Status, Product Tracking, SMEMA status, etc.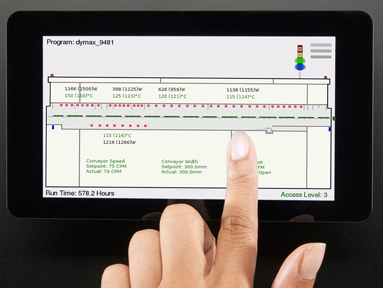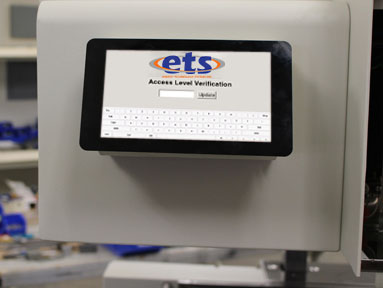 Deep Bed Gas Phase Filtration (left) Removes VOC's (such as solvents) and Odors from the Exhaust Stream. The Edge Grabber Pallet Conveyor (right) is available for Heavy and/or Palletized Products.