High Precision Gantry Robot Workcell
FlexCell: Precision Gantry Robot Workcell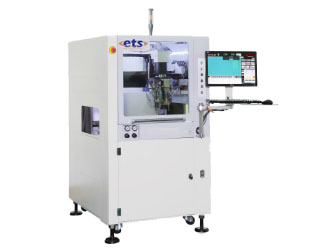 Highest Quality Precision Linear Motor Gantry Workcell
FlexCell is designed to strike a balance between cost and performance. This Multi-Axis, Multi-Head, Linear Motor Robotic Gantry Workcell can be equipped with multiple end effectors such as Selective Conformal Coating Spray and Dispense Valves, Fluid Dispensing Valves, Non-Contact Jetting Valves, Plasma Treatment Nozzles and more.
Additionally, FlexCell can be equipped with dual nozzle simultaneous processing, four direction 35° tilt, valve/nozzle rotation and/or integrated inverter for double sided processing. These features enhance FlexCell performance with the lowest cost of ownership.
Available Features
Can be configured with any combination of coating, dispensing or plasma nozzles
PC with LCD monitor, keyboard and mouse (Height Adjustable)
Auto dipping and purging waste collection system
LED UV lamps for inspection
PCB stopping and clamping system
4L material tank (conformal coating)
UPS and voltage stabilizer
ESD grounding Point
Meter Mix System
CE Certified
End Effectors can be tilted 35º and rotated 360º
Heavy duty conveyor
Dual Lane conveyor system
2 stage conveyor
CCD vision camera
Material level detection
Pallet return conveyor (Underneath)
Barcode or 2D code scanning system
Coating fluorescence detection sensor
Substrate heating
Material delivery heating
---
FlexCell Specifications
Facilities
Machine Structure

Steel Frame

Dimension LxWxH (mm)

1100 x 1200 x 1630mm

Weight

700kg

Input Power

220-240VAC Single Phase, 50/60Hz (3 wire);
208VAC Split Phase, 60Hz (4 wire);
208VAC Three Phase, WYE, 60Hz (5 wire);

Power Consumption

3.0kW

Compress Air Requirements

0.6MPa (100L/min) or 90psi (3.5CFM)

Conveying System
Conveyor Height

900 – 965mm

Speed

800cm/minute maximum

Direction

Left to Right (Right to Left option)

Component Clearance

100mm (top/bottom)

PCB Edge Clearance

5mm

No. of Conveyors

Single (Dual Conveyor Option)

PCB Width

50 – 500mm

Width Adjustment

Auto (Motorized/Programmable)

Gantry Robot Motion
Motor Drive

Servo Amplifier

Number of Axis

5 (X, Y, Z, Tilt, Rotate)

Linear Motion

Linear Motor + Linear Guide

Positioning Accuracy

10µm (0.01mm)

Repeatability

5µm (0.005mm)

Maximum Speed

1000mm/s

Maximum Acceleration

1.0G

Rotation Angle

+/- 180 degrees

Tilting Angle

35 degrees

Number of End Effectors

Up to 8 (Valves, Nozzles, Cameras, Inspection Sensors, etc.)

Motion Range

X=600mm, Y=500mm, Z=100mm

Selective Conformal Coating
Conformal Coating Valves

SA-W5:Cone Spray Valve
DJ-01

:

Needle Valve

DJ-03:RTV Silicone Needle Valve
LA-W30:Fan Spray Valve
FC-4:Multi-Function Valve

Smallest Dispense Diameter

0.2mm

Smallest Spray Diameter

3mm

Fan Shape Spray Width

15 ~ 30mm

Fluid Dispensing and Jet Dispensing
Dispensing Valves

PV-10: Piezo Jetting Valve
PS-8600:Pnuematic Jetting Valve
PS-9200:Pnuematic Jetting Valve
E-01: Electromagnetic Jetting Valve
JET-16: Pnuematic Jetting Valve
TDS-10: Axial Slider Valve
TDS-25: Radial Slider Valve
TDS-40: Radial Slider Valve
LG-02: Electromagnetic Screw Valve

Substrate (PCB) Heating

Zone Heater, Ambient ~ 120°C ± 3°C

Valve Heating (Viscosity Control)

~100°C ± 3°C

Laser Height Measurement

Automatic Laser Height Detection & Z Axis height Calibration

Weight Measurement System

Weight Measurement Accuracy 0.01mg

Valve Cleaning System

Vacuum

Plasma Treatment
Nozzle Type

Wide Area: Rotation Nozzle
Focused Area: Jet  Nozzle

Plasma Discharge Width

Rotation Nozzle: 20, 25, 30, 40, 50 or 60mm
Tine Jet: 2, 3, 4, 6, 8 or 10mm

Plasma Discharge Length

15 ~ 20mm
[/showhide]

FlexCell Options
Barcode Scanning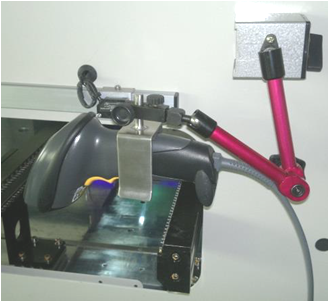 ---
Selective Conformal Features & Structures
Complete Line Solution
One-Stop Total Line Selective Conformal Coating Solutions provide PCB manufacturers the opportunity to increase their productivity levels exponentially by fully automating their conformal coating process. The example fluid dispensing line below illustrates a 50% reduction in line length over traditional automated conformal coating process lines. Contact Us Today for a specialty coatings system solution using precision dispensing valves, spray nozzles and automation that meets your exact fluid dispensing requirements.
Shown below is a selective conformal coating process line with a single load/unload location. This configuration is ideal for double sided conformal coating while reducing floor space considerably. This selective coating line includes the FlexCell Selective Conformal Coating Workcell, TrioTek Curing Oven, Load/Unload conveyor and Inspection Station. For Pricing and Specifications please Call or E-Mail Us Today!
One Man Operation (OMO) – Fluid Dispensing Line
TrioTek² Thermal Moisture Ultraviolet 2-Level Curing Oven
Traditional vs. OMO
Traditional Line
Traditional or old school process lines have a product flow input at one end and an output at the opposite end of the line. These traditional lines are harder to maintain, require more labor, and occupy greater factory space.

OMO Line
OMO has several advantages over traditional process lines. Product flow input and output occurs at the same location allowing for a convenient manual flip for coating or dispensing on both sides of a PCB assembly. In addition, a single operator can both load and unload the PCB assemblies for the entire line reducing labor costs. This also reduces handling time and the number of pallets needed for manufacturing processes of PCB assemblies. Depending on the process line, an OMO line has a reduced factory foot-print of up to 50%. In an ideal environment, it could nearly double the production capacity of a manufacturing facility.

Additional OMO Examples